MAIN STAGE SHOWS
APRIL 24:  PANDEMIC
Pandemic headlines the Main Stage on April 24.   Pandemic plays rock and metal from the 70's through today!
APRIL 25:  PLATINUM FM
Platinum FM features 5 vocalists with stellar harmonies. We play a wide variety of the hottest Top FM hits of all time!
MAY 1:  KVSC MAY DAY JAM AND JIVE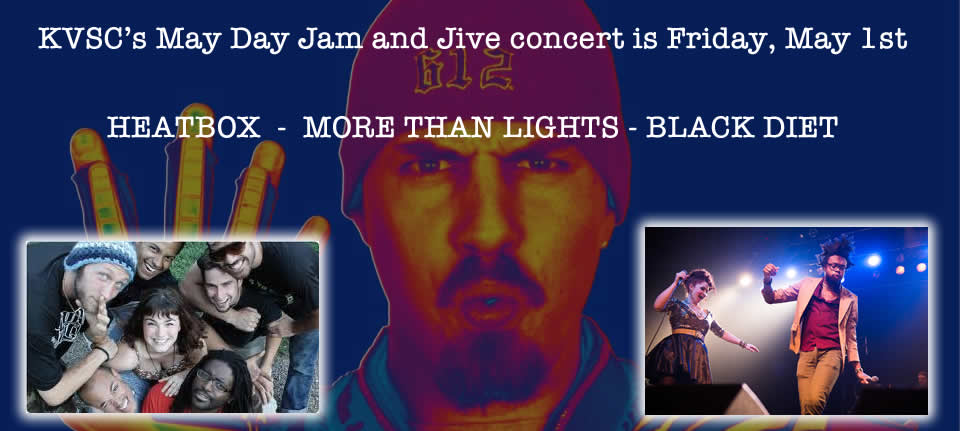 KVSC's May Day Jam and Jive concert is Friday, May 1st at the Red Carpet Nightclub in historic downtown St. Cloud. We're celebrating spring, the end of classes and our instinctual need to dance and groove with:
More Than Lights, featuring artists Natalie Fine and Haitian-born UnicusHarry, and producers Joshua Holmgren and Corey Hess. Together, they make all sorts of fresh music. It brings together everyone from hip-hop heads to hippies, hipsters to hamsters, and everyone else under the sun.
Along with Black Diet named one of First Avenue's Best New Bands of 2013, Black Diet is a garage/indie/soul band with a sartorial flair. Indebted to Stax records, they put on shows that look like Baptist church services held at punk houses.
Heatbox aka The One Man Entertainment System, is a Minneapolis based creative force known for his innovative live performance and uniquely diverse set of creative gifts. Heatbox effortlessly blends vocal percussion and vocal turntablism with the simulation of horns, strings, musical instruments, and various sonic anomalies. But that's not all. He has mastered a wide range of music technologies while grounding them in a firm understanding of quality songwriting, singing, and the unifying power of creative expression via live performance.
The concert is just $8, night of the show. This is a 21+ concert. See you there at KVSC's May Day Jam and Jive concert, Friday, May 1st at the Red Carpet.
MAY 2: DEVON WORLEY BAND

Minneapolis native and vocal powerhouse Devon Worley fronts this unique band. Midwest professional musicians who recognized the talent and potential in Devon's project formed the band. Rock solid veteran musicians behind a dynamic vocal prodigy equal one heck of a good show! The Devon Worley Band is adding to their already long list of bookings and have opened for or performed with some of Nashville's biggest acts such as: Gloriana, Hunter Hayes, Kentucky Headhunters, Confederate Railroad, Craig Campbell, Neil McCoy, Kix Brooks and Randy Hauser.